There's one little to-do item on your list that has been there for so long you don't even see it anymore: Write Sales Copy. Three simple words, but it can feel like an enormous undertaking. Unfortunately, without it, your entire Kajabi sales funnel is on hold. And instead of just writing it, you're wasting time on tasks that don't move the needle in your business, and you're wasting money as your monthly Kajabi subscription goes unused (or under-utilized).
I've got a simple way for you to brainstorm and start writing the copy for your sales page today, in less than an hour. Not only will it give you easy ways to put your offer into words that truly speak to your ideal client… it'll give you a straightforward road map for the layout of your sales page copy. On top of that, you'll get prompts to help you write your checkout page, thank you page, and welcome email.
Why Sales Copy Matters
Your sales copy is the bridge that takes your ideal client from "what is this?" to "I'm in!" When you write sales copy that makes your ICA feel understood and sympathized with, you're opening them up to the possibility of purchasing what you are selling. You and I both know that you have an amazing product or service to offer the world. After all, you wouldn't be doing all this searching, reading, and learning if you didn't truly know that in your heart. Good sales copy takes all the passion and conviction inside you and expresses it in a way that your ideal client understands, so they can see how great your offer is too.
What's the Hold-Up?
You started your business because you had an idea. An idea that you knew people would love and benefit from. But suddenly you were faced with all this other stuff – having to write, sell, design, manage, and more. In an ideal world, you'd just skip to the good stuff, right?
Maybe a copywriter isn't quite in your budget yet. Or maybe it is, but you're just playing around with a new offer before you really invest. Either way, there's a simple way to write sales copy for your Kajabi funnel that truly works.
Free Mini-Course: Write Your Kajabi Sales Funnel Copy
If you're ready to take a stab at your own copy, I created a workbook that will take you less than an hour and inspire all the words you need for a basic, straightforward Kajabi sales funnel.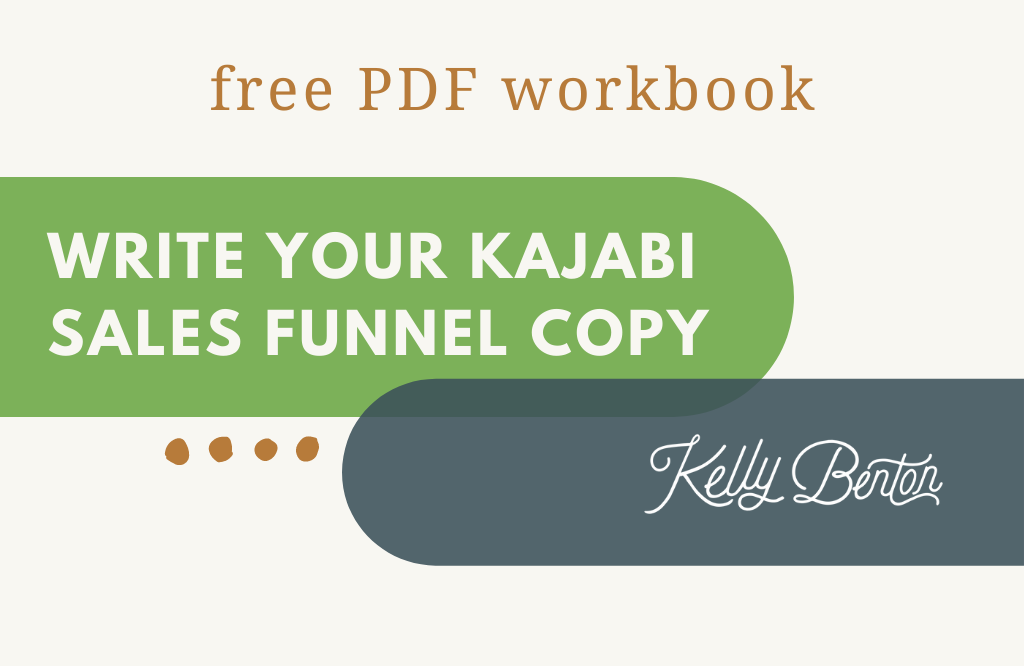 In this workbook, I'll walk you through every major sales point of your opt-in / landing / sales page, along with tips for your checkout page, a template for your thank you page copy, and helpful ideas for your welcome email. We'll tackle the entire pipeline from start to finish!
By signing up for this workbook, you're agreeing to periodic marketing emails from Kelly Benton. I never sell information, and you can unsubscribe at any time (but I don't think you'll want to with all the awesome Kajabi tips I'm gonna throw your way!).