If you're wondering how to use Kajabi pipelines, I may have misled you just a tad with my title. Because as a Kajabi designer and specialist, my answer is: I don't.
In short, Pipelines are a section of their platform built to attract people who self-identify as "not the least bit tech-savvy." They want these specific users to feel like they have some inkling of what they're doing while building their Kajabi funnels.
The problem is, Pipelines are actually overly complicated (plus Kajabi limits how many you can create – a measly three with the basic plan!).
Kill the Kajabi Pipelines
So what I do (and what every Kajabi specialist I've ever had the pleasure of meeting does), is we don't use Pipelines. We simply create all the individual pieces of the funnel in Kajabi and connect them using automation.
Let's say you want a simple opt-in funnel: an opt-in page with a form, a thank you page, and an email sequence. Here's how you would create that without using Pipelines:
Create a form (Marketing > Forms). This could be used to sign up for your newsletter, get a freebie, sign up for a free webinar, etc.
Create a new Landing Page (Website > Pages). This will be your opt-in page.
Add your form to the opt-in page.
Create another new Landing Page. This will be your thank you page. This doesn't have to be fancy! Maybe it just includes your logo and a sentence thanking or welcoming them, then instructing them on what to do next.
Create an email sequence. These are the emails that will be triggered when someone fills out the form.
Go back to your form (Marketing > Forms) and add automations, AKA what does your form do? It could grant them a product, subscribe them to an email sequence, register them for an event, etc. I also like to add a tag too (you can never have too many tags!).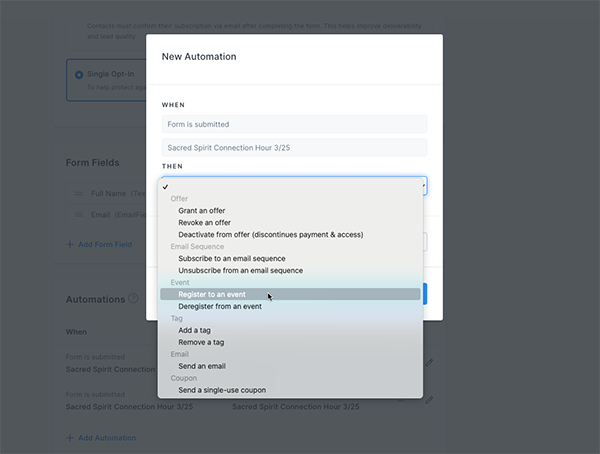 This is just a super simple way to set up your funnel. I like setting them up this way (versus using Pipelines) because the elements are easier to clone or edit in the future. Don't think just because you're new to Kajabi that you can't do this!
Kajabi Funnel Checklist
I recently created a free Kajabi Sales Funnel Checklist that lays out every individual thing you need to think about to set up your freebie or paid offer funnel in Kajabi. Even if you already know how to set up your funnel, this will be a major time-saver for those times you have to do it over and over again! Grab your free copy here.