While blogging may not be most small business owners' favorite task, it's really important for developing good SEO for your website, which in turn helps search engines find and rank your page. Here are my 10 go-to tips on how to boost SEO in your blog posts.
1. Research High-Performing Keyword Phrases
Research can feel like the most daunting part, but it doesn't have to be! Just put yourself in your ideal client's shoes, and think about what they might type in the search bar in order to find your blog post. Ubersuggest is a wonderful resource for checking your keyword phrases, and they'll let you do 3 free searches per day.
2. Choose a Main Keyword Phrase
Once you've looked up your keyword phrases, it's time to choose your main one. Ideally, you want it to have a high search volume and a low SEO difficulty on Ubsersuggest. Keep in mind that it will be easier to implement your main keyword phrase if it's conversational in tone. As an example, I used "how to boost SEO" as my main keyword phrase for this blog post, whereas "blog boost SEO" would be much harder to work into the copy.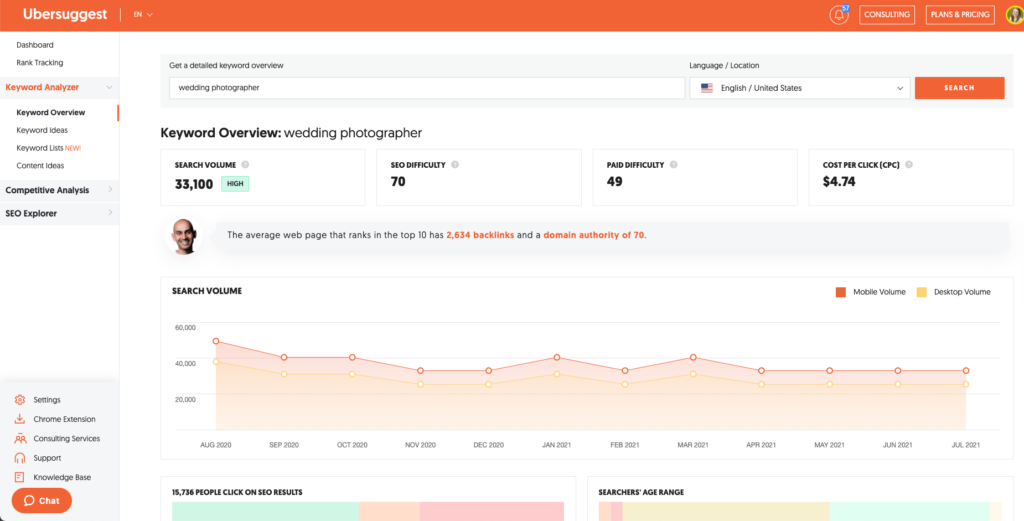 3. Use the Main Keyword Phrase in Your Title and First Paragraph
It's best to use the exact main keyword phrase in your blog title if possible. Use it again in the first paragraph of text (even better if it's in the first sentence!). Google uses these two things to help determine what the blog post is talking about.
4. Use the Main Keyword Phrase Throughout Your Blog Post
I try to aim for using the exact main keyword phrase at least 2-3 times in my blog copy. Use your judgment based on the total number of words in your post. You shouldn't stuff 3 of the same keyword phrases into a post that only has 100 words.
5. Use Headlines Liberally
Every blog post (in fact, every page on your website) should have an H1 header. Use H2 and H3 headers to break up large blocks of text on your blog. Work in other keyword phrases or synonyms for your main keyword phrase when coming up with header text.
6. Use the Main Keyword Phrase in Your URL
The URL for your blog post should basically be the title, except with dashes instead of spaces. Go ahead and remove any worthless words like a, the, in, or at (unless they're part of your main keyword phrase!). Your blog URL should never ever have the word "blog" in it or the date of the post. WordPress automatically formats blog posts as websitename.com/blog/blog-name, which is terrible for SEO. Go into settings and turn that off.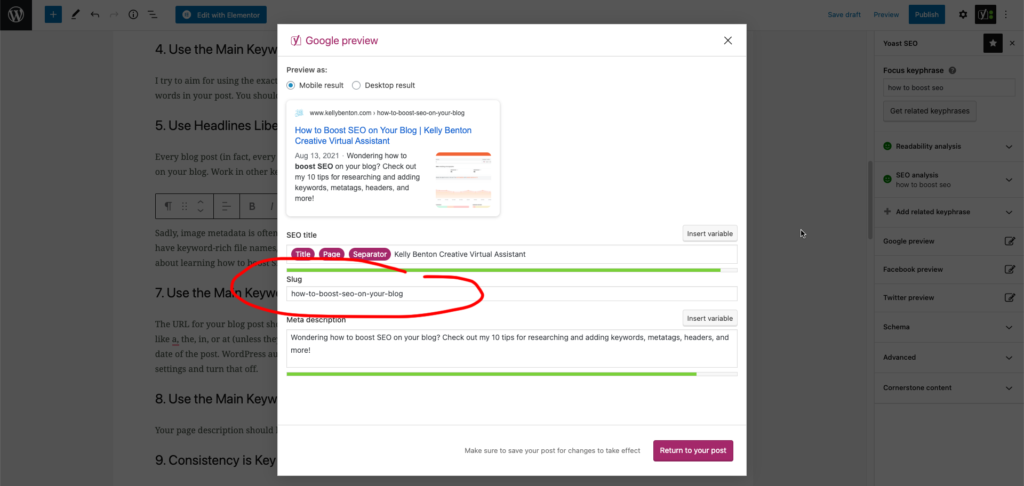 7. Add Metadata to your Images
Sadly, image metadata is often ignored by almost everyone (except for photographers, maybe). In a perfect world, your images would have keyword-rich file names, along with keyword tags, titles, and descriptions or alt text on what the image is about. If you're serious about learning how to boost SEO, this part shouldn't be ignored!
8. Use the Main Keyword Phrase in Your Page Description
Your page description should be a summary of the blog post with 1-2 keywords inserted in it. Keep the length to 2-3 paragraphs max.
9. Consistency is Key
Like social media, it doesn't really matter how often you post, as long as you do it consistently. I would recommend trying to aim for 1-2 times per month at a minimum. Batching blog posts may help you save some time in writing and formatting.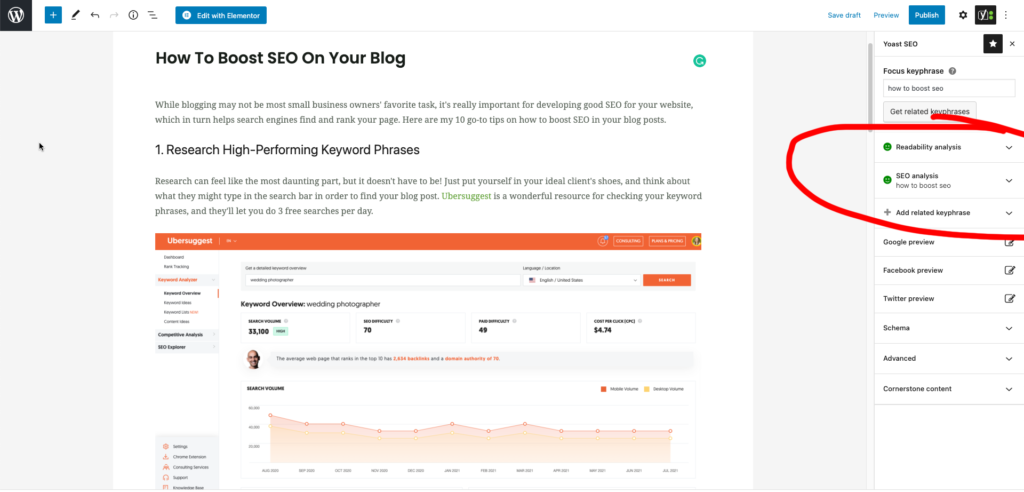 10. Use the Yoast SEO Plugin
If you're using WordPress, the Yoast SEO plugin is the gold standard for acing your SEO. You can use it on blog posts or regular website pages. It will walk you through most of these tasks and give you a stoplight color rating so you know how you're doing.
Feeling Inspired?
Are you feeling inspired or overwhelmed? It's really not as hard as it seems, and once you start practicing your SEO blogging, it will get easier and easier each time. If you'd rather someone else handle all this for you, check out my ghost blogging services. I can write all your blog posts and do all the keyword research and SEO so you don't have to.