Let's get right to the point with a simple Kajabi tip: Always add your send date to the title of your email campaigns.
Here's what that looks like: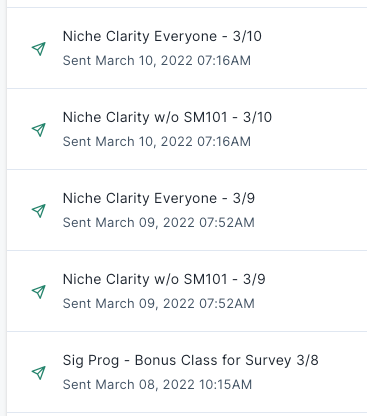 Now before you roll your eyes and close the tab, let me explain myself. 
With the date in your email title, you can:
Easily scroll through your scheduled emails and check to make sure you scheduled them for the correct date (we all make mistakes).
Make changes to a scheduled email and easily remember what date you need to schedule it for again (the title is up at the top for reference).
Clone and reuse past campaigns without having to think up a unique title.
And my favorite: search old email campaigns based on date instead of just title! 
This simple trick can be a huge time- and life-saver, especially if you like to bulk schedule emails. I recommend implementing it today! Take a minute to sign up for my weekly newsletter so you can get simple a Kajabi tip like this one sent straight to your inbox, or check out my other Kajabi blog posts.
Now get stop procrastinating in your inbox and go write those emails you've been meaning to send.