In my opinion, Kajabi events are a pretty underutilized feature. But they're a great way to schedule emails to a segment of your list based on a specific date and time. 
Let me give you an example…
Let's say you're hosting a free webinar on Wednesday, August 3 at 11:00 am. You could just throw the webinar link online and hope people show up, but you're missing a huge opportunity to engage with a warm audience. So here's what you could do instead:
Step 1: Create an event in Kajabi for your free webinar.
Step 2: Create a simple landing page with a form where people can register for the free webinar.
Step 3: Set up an automation that is triggered when someone fills out the form. The automation registers them for your event.
Step 4: Set up pre-event emails inside the event. One goes out as soon as they register with the webinar link. Then send as many as you want up to the live webinar. Maybe you send them one the day before your webinar, and another an hour before. (Note: If someone registers after some of the emails were set to go out, they simply won't get those. But they'll still receive the email that's sent out as soon as they register.)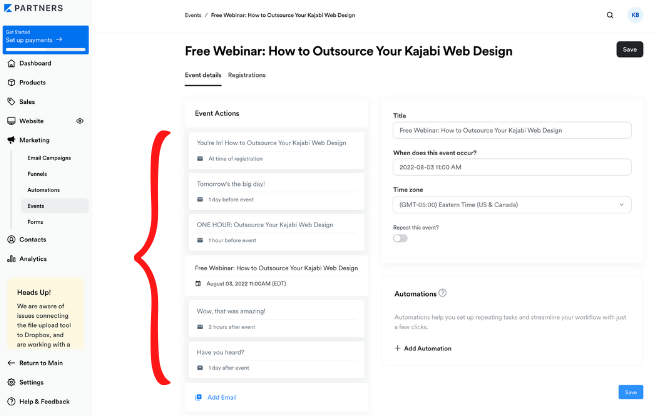 Step 5: Host your live webinar, knowing that your audience probably didn't forget about it!
Step 6: f you're sending out a replay, you can throw it into a "post-event" email. You could also turn the post-event emails into a sales sequence if your webinar is leading to a larger product.
Here's the best part: Kajabi events can be cloned. So if you host the exact same webinar every other month, your work is already done!
Struggling with writing copy for your opt-in page (or any part of your funnel, for that matter)? Check out my free Write Your Kajabi Sales Funnel workbook!