Your offer is ready, but you have no idea what to write on the sales page so people will actually buy it. And forget about the checkout page, thank you page, and welcome email. Just thinking about all that copy you need to write is making you a little crazy.
Like 'I'd rather be stung by 50 wasps than write all this copy' kind of crazy.
You know you need to just dive in and get started, but what if you don't know what to say? What if you put it in the wrong order? What if you don't really know how to put your customer's wants and needs into words? 
There's got to be some sort of sales copy template, right? 
I've got you covered with my FREE workbook, How to Write Kajabi Sales Funnel Copy!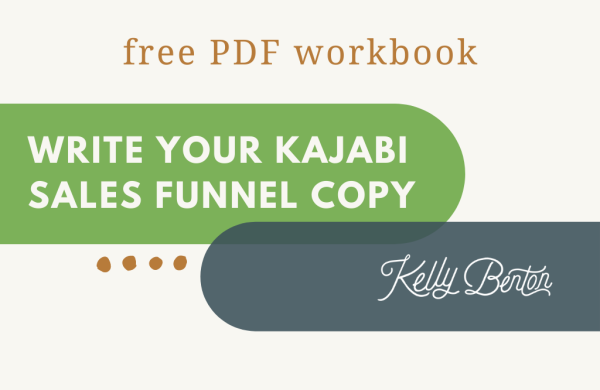 Inside this free workbook, you'll tackle your entire sales funnel in just one hour – from sales page to welcome email!
This PDF was created especially for Kajabi users who are ready to get their offer online and get it sold. You'll learn the basics of sales copywriting, how a sales page should flow from top to bottom, and walk through 27 writing prompts to get your motors turning and the sales ideas flowing. When you're done with the prompts, your entire sales funnel will be ready for creation!
Grab your free copy here (check your email after you hit "submit"!):
By submitting this form for the Kajabi checklist, you agree to receive periodic emails from Kelly Benton.